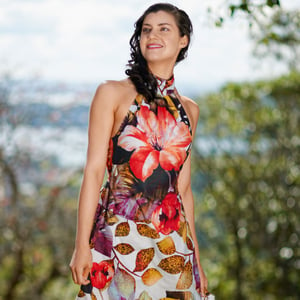 $

180.00
This halter dress has been handmade from a stunning floral cotton print. Includes a wrap around button back, and adjustable neck tie. A-line shaped skirt.
inspired by many things, but mainly a mix of my famous wrap around halter top and a love of gorgeous prints. Part of the Red Flora Collection!
Being 100% cotton (including the lining), it is perfect for those hot summer days, but can be quite dressy, so great for a wedding or party!
Features included in the Hibiscus Halter Dress:
- made from a 100% cotton with a polished/slight sateen texture. The print is of large hibiscus flowers, in colours of peach, red, orange, purple, yellow, brown, green on a white background.
- the lining is a 100% cotton, in pale peach colour.
- fitted around the bust and the waist is defined by using elastic and buttons at the back.
-The halter top is fastened by a tie around your neck.
- gathered at the neck. This is a great addition to the dress as it suits women with a smaller bust as well as a medium sized bust
- fully lined with all seams hidden inside the two layers.
- a wrap around back. One layer overlaps the other layer, and each back piece is curved at the hem, creating curved tulip shape.
-Perfect for travelling; versatile, light weight, and minimum creasing.
To discuss sizing, please use the contact page. This is available in Australian sizes 4 to 10, and is best suited to someone with a small to medium sized bust.
Care Instructions:
Gentle Machine Wash in Cold Water, Line Dry. Do Not Tumble Dry, Do Not Soak.